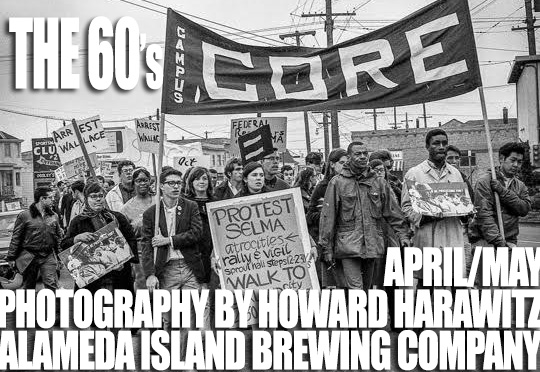 Join us at The Alameda Island Brewing Company on 2nd Friday April 8th 6pm-9pm for the opening reception of
"The 60's Through The Lens Of Howard Harawitz"
Howard Harawitz was an active participant in the San Francisco Bay Area's civil rights, peace, anti-poverty and free speech movements of the 1960s. He represented the Alameda County Welfare Rights Organization on the board of directors of President Lyndon Johnson's War on Poverty program in Berkeley and in 1967 was an anti-Vietnam war candidate for Berkeley City Council. These photos were selected from more than two thousand negatives made during that period. If you would like additional information, want to obtain copies, or wish to see more of his photos you can contact Howard at harawitz at gmail dot com.
Howard's work was recently featured in "The Black Panthers Vanguard Of The Revolution".
http://www.pbs.org/independentlens/films/the-black-panthers-vanguard-of-the-revolution/
RSVP https://www.facebook.com/events/1697506920528337/
Photographs will be on display April-May at the Alameda Island Brewing Compay. See more of Howard's work through his website: http://exit0.com/howard/sixties/