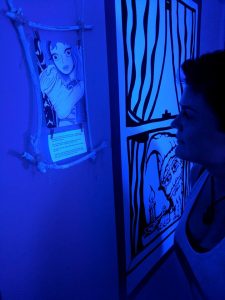 Thanks to all of the artists that participated in our Dark Side Of The Grimm Installation!
Jessica Warren: "Installation Conception, Leaves, Storyboard & Frames"
Ryan LaLonde: "Open Door" Painting
Alana Dill: "Trees, Donation Gnome"
Sara Edge: "Woodland Creatures"
Wesley E. Warren: "Gnome Mural, UV Lighting and Installation Structure"
Vivian "Vivee" Young: "Paper Dress"
A special thank you to artist/writer Barry Tribuzio!
Be the next installation artist at Studio 23!
We have decided to make this a reoccurring event at the studio and will be looking for artists interested in transforming the studio's side room into their own creations. You must apply to be accepted.  Studio 23 typically takes 30% commission on art sales/donations.  However, installation terms may vary.  Work must be complete by Sept 1st (No Later).  That means the entire installation needs to be finished by this date so that we can properly promote it for October. Depending on your specific installation needs, we suggest starting in early August.  Experience in installations is a must and we would love to see your previous work.  To apply please email us using the instructions on http://www.alamedaartists.com/submit-art/.  Be sure to make your email subject "studio 23 installation artist" or we may not see your entry.
Once you have been accepted you will be required to complete and submit our installation artist contract.  Thank you for your interest!
About our previous installation:
The Installation: Dark Side Of The Grimm
This year a special addition, the back room is transformed as well into a Grimm fairytale…based on "The Three Little Men in the Wood", all created from paper and glowing as well, an immersive space featuring the work of many gifted artists.
The installation is a collaborative effort between five local Alameda artist's; Ryan LaLonde, Alana Dill, Sara Edge, Wesley E. Warren, Jessica Warren & Vivian Young . The installation is created from 95% UV reactive paper. Each artist has focused on but not limited to their own creative contribution and when brought together will transport the viewer right into this fairytale world.
The theme is based on "The Three Little Men in the Wood" or "The Three Little Gnomes in the Forest", a German fairy tale collected in 1812 by the Brothers Grimm. The book was owned by artist Jessica Warren as a little girl.
"The image of the girl in the paper dress is burned into my memory from when I was a child. It's funny because everyone that reads the story walks away remembering something different.
Things have been kind of crazy lately and really heavy, politically, natural disasters, the threat of war. I wanted to bring together a group of talented artists to create a world that allows one to escape from all that, if only for a few moments.
This is our 4th year of putting on the Black Light Art Show, I had been contemplating on doing an installation for some time. Each artist focuses on their particular contribution to the installation, then we bring it all together, tweak it over the next few weeks and unleash it to the public. It's really exciting and a well needed distraction from everyday life." -Jessica Warren
The art show and installation are both free to the public. Donations are welcome for both the installation and the group art show. There will be a special hand made paper Gnome taking donations specifically for this year's installation. Suggested donation for the installation is $20. But do not let funds stop you from coming! We want everyone to enjoy this. Kids are always welcome at Studio 23, but remember we do often have live nude body painting. So bring kids at your own discretion.
The Dark Side of the Grimm installation will remain up at Studio 23 through December.
"The Three Little Men in the Wood" Read the story :http://www.pitt.edu/~dash/grimm013.html
Installation Artists:
All artists have their own focus but are not limited to just that piece. Everyone has contributed far beyond their own specific work. The entire installation has been a collaborative effort.