This month:
New Art Meetups Scheduled
Upcoming Art Shows
New Venues added to Second Friday Artwalk
Call For Art
Art Fair/Creature Feature Photos by Howard Harawitz
Meetups: Alameda Artists



 Paint Your Partner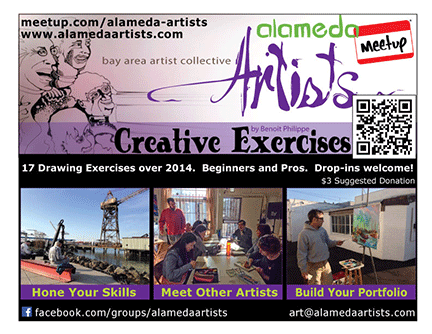 Join us Saturday July 25th at Studio 23 for the upcoming excercise "Paint Your Partner".
Bring in a friend (or we can match you up with a partner).
Fee: Sliding scale. $5-$15
Get more info!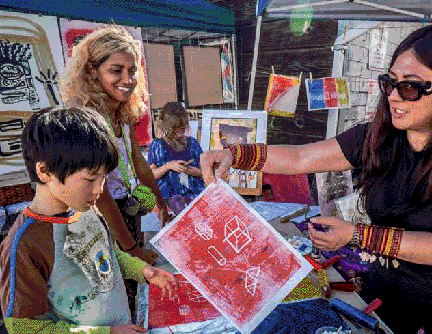 In this group, you will learn to print linocuts, woodcut, pull art.

Try the Beer and Prints Meetup- July 11th 5PM-10PM
Get More Info/RSVP

Upcoming Show: Vera Tour, Dave Sylvester & Jewelry by Sara Edge


Stop by Studio 23 for "Sweet Dreams".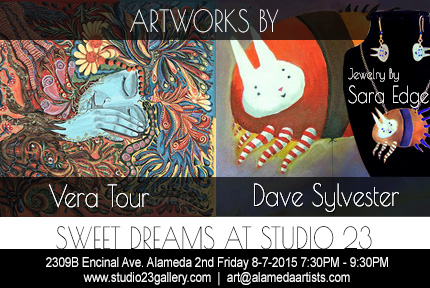 August 14th 7:30Pm-9:30Pm at Studio 23
Get more info: studio23gallery.com
Dave Sylvester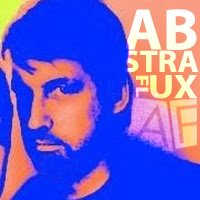 Born in Honolulu, David Scott Kalani Sylvester later moved to San Diego. Living in various parts of the country he discovered he had a penchant for a distinctive sense of art, developing unique characters. "There are creatures all around us!"

During his formative years,and as he grew into his chosen career of developing off the wall characters, his work was recognized by a number of art educators in the San Diego area.
They recommended some of his work be shown at the San Diego Museum of Art. One framed piece depicted dozens of off the wall characters on their way to Disneyland. That creation drew the attention of hundreds of gawking and laughing viewers. He was on his way.

David has over 20 years of experience in graphic design, cartooning, illustrations and other forms of art work.
He currently resides in Piedmont,California and is the art director of a well recognized software company.

In his spare time he creates characters for himself and others at www.cartoonmascots2go.com and personal work at https://www.behance.net/DaveSylvesterArt
He attended Orange Coast College and Missouri State University, majoring in Liberal Arts.
Check out more of Dave's work during the opening reception of "Sweet Dreams"  on August 14th at Studio 23.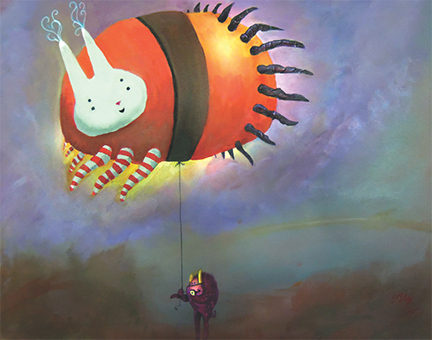 Out and About: Moving Forward Into the Past


"Alameda Artists for Preservation's Sake" at the Alameda Museum.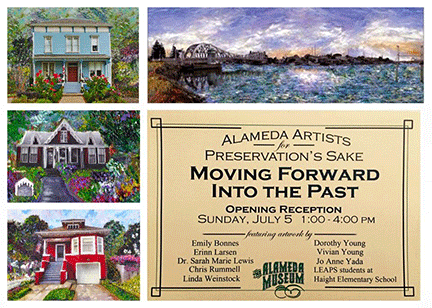 24 local student artists from Haight elementary school will display and sell their work along with 8 established local Alameda artists.
Music by Ken Weinstock Jazz Trio.  Please share… Save the date – July 5th 1-4pm.  RSVP
Out and About: ARTSMASH @ Fireside Lounge


Introducing ARTSMASH! The Fireside Lounge's monthly art show!
DJ Fact.50 will be spinning the beatz while you take in the talent manifested by amazing local artists!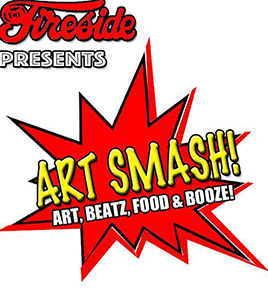 Out and About: 1st Annual Alameda Summer Art Fair


Thank you for coming out and making this year's art fair so memorable!


The fair stayed busy and with all the activities going on, it also stayed fun!
From portrait painting by Eben Dodd to a print press at Artery Press, there were a lot of fun activites going on.  The best part, it was all about the ART!
Artists came from all over the bay area to Alameda to participate in this year's first Alameda Summer Art Fair.  There were about 30 live demo booths.
See more about the artists here
Artist's making art at their booth is what made this fair so special.  Rather than the typical art fair roles of seller & patron, it became "Let's all make art together!"
It's more fun for the artist because they actually get to work on their art during the fair and it's more fun for the patrons because they really experience the making of the art, rather than just shopping for it. It feels less like an outdoor mall and more like a creative happening that everyone gets to be a part of.
During the art fair Studio 23 had it's encore show of "Creature Feature" displaying the artworks of over 20 additional bay area artists.
This little hub in Alameda keeps growing and in all the right ways.  Studio 23 opened its doors in 2013 as an art studio and shortly there after morphed into a collaborative art gallery where group shows & art meetups are held every month or so.  Within a week  , Mark Colenman and Jennifer King opened their studio just a few steps away.  They celebrated the official opening of  their place "The Alley" to the public during the fair.   Following "The Alley",  Cheryl Harawitz opened her art studio & gallery, "Back Street Studio" adjacent to Studio 23.  You can feel the electricity in the air just being around these studios.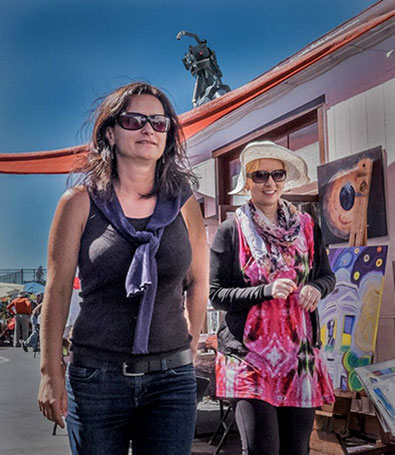 Photography by Howard Harawitz
Artist Wesley E. Warren's creation Friendly Lord Zondar, a giant sized metal sculpture robot watches over the crowd during the fair.  Wesley built Lord Zondar about two years ago and he already has a pretty big fan base, as well as his own Facebook Page!  You can friend Lord Zondar on Facebook at https://www.facebook.com/lordzondar

A big thank you Howard Harawitz for capturing the day beautifully!
Visit Studio 23's Facebook page to view the entire gallery, see if you can find/tag yourself or your friends!
View more photos from the fair on our website: http://www.studio23gallery.com/summer-art-fair.cfm






Photography by Howard Harawitz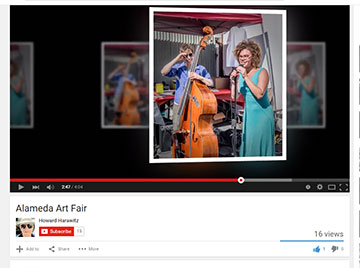 Watch a slide show to music created by Howard Harawitz
This year's Art Fair Sponsors & Prize Donators:
Our sponsors took a chance on the 1st ever Alameda Art Fair and we are so grateful that they did!
Lucky 13
Artery Press
Mark Badger
Himalayan Gift Shop
Starbaby Studio​
Best Lil' Porkhouse​
Monkey Bars
East End
Alameda Island Brewing Company​
Vintiq
Blicks Art Supplies
Other contributors…
Panic In Pockadots
Scribble Scrabble
Manino Leather
A special Thank You To
Mayor Trish Spencer for announcing our coloring contest winners, The Addison Jazz Trio & their special guest Viva, DJ Fitz & Alana Dill for her amazing face painting as usual.
Congratuations to the Coloring Contest Winners :
Maggie Spiegel , James Davis & Ian (Just to name a few)
Congratuations to the Costume Contest Winners :
Stu Bunny Badger Jones, Kitty & the star of the day Athena!
Call for Art! October's Black Light Art Show




There is plenty of time to get your work ready for this year's Black Light Art Show.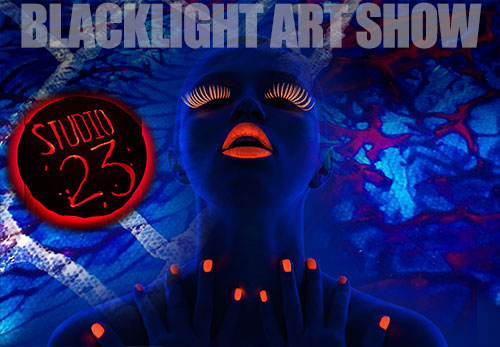 Submission Guidelines:  http://www.alamedaartists.com/submit-art/
Submission Deadline: September 1st.
You can also contact Studio 23 through https://www.facebook.com/AlamedaArtists.
Check out the pictures from last year's show on http://www.meetup.com/Alameda-Artists!
What's New: Artwalk Additions



New places to stop by on the 2nd Friday Artwalk!
This new stop really helps bring all of Park Street together!  Plus, there's beer!
Alameda Island Brewing Company: 1716 Park St 6PM-9PM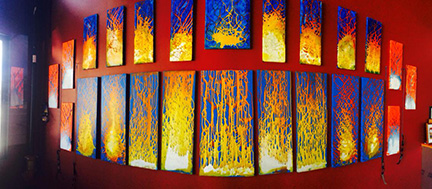 Mikey Elliot's artwork displayed in June.  Wesley E. Warren & Jessica Warren's work can be seen in July.
Alameda Artists:  Who we are




Alameda Artists is a Meetup group that formulated on Meetup.com back in early 2013.  Our group is open to all Bay Area Artists and it's free to join!
Visit http://www.meetup.com/Alameda-Artists to sign up.
Want to be a featured Artist?  Email: art at alamedaartists dot com with information on your upcoming event and you might be selected.
Have the inside scoop on upcoming Bay Area Art Event?  Send details to: art at alameda artists dot com.
We'll do our best to get it in our next newsletter!
Thx!
Wes and Jess