Figure drawing sessions are held the last Saturday of every month at Studio 23.  Students must pre-register at https://www.meetup.com/Alameda-Artists.
We are located in Alameda, California.  Sessions range from 2-3hours.  All levels are welcome.  Get exact details and register at https://www.meetup.com/Alameda-Artists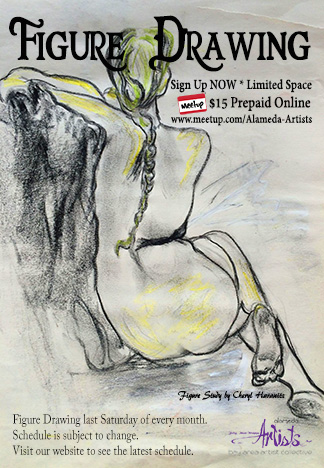 The DL
Arriving Late:
We lock to door to the studio to protect the privacy of the model. Wait outside, we will open the door on the models first break.
Cell Phones:
No Photography Permitted
No Cell phones or mobile devices can be used in the studio.
Bathroom / Breaks:
We have regular breaks through-out the session. Use that time to get drinks, stretch, bathroom, etc.
Model: Emily Kontelis
Fee:
$15 Per Person. Must be pre-paid online to ensure there is room for everyone.
Refunds:
We do offer refund if your cancellation is 2 days before the event. This gives us time to find new students.
We are a small self funded art studio. Most of the fee goes to pay the model. (You will be refunded minus meetup.com transaction fees which are approximately $2 )
Supplies:
We have a couple extra easles and ususally there is an extra sketch pad laying around. Ideally you will bring your own easle and art supplies.
Feel free to sketch, paint, charcoal, ink, whatever floats your boat.
We have limited supplies for those of you that need them.
Clean Up:
There is a restroom and sink to use for clean up.
Get more details on meetup: http://www.meetup.com/Alameda-Artists
(View Upcoming Meetups)