Artist booths are availale for the Studio 23 BlackLight Art Show.
Booths must qualify to be accepted.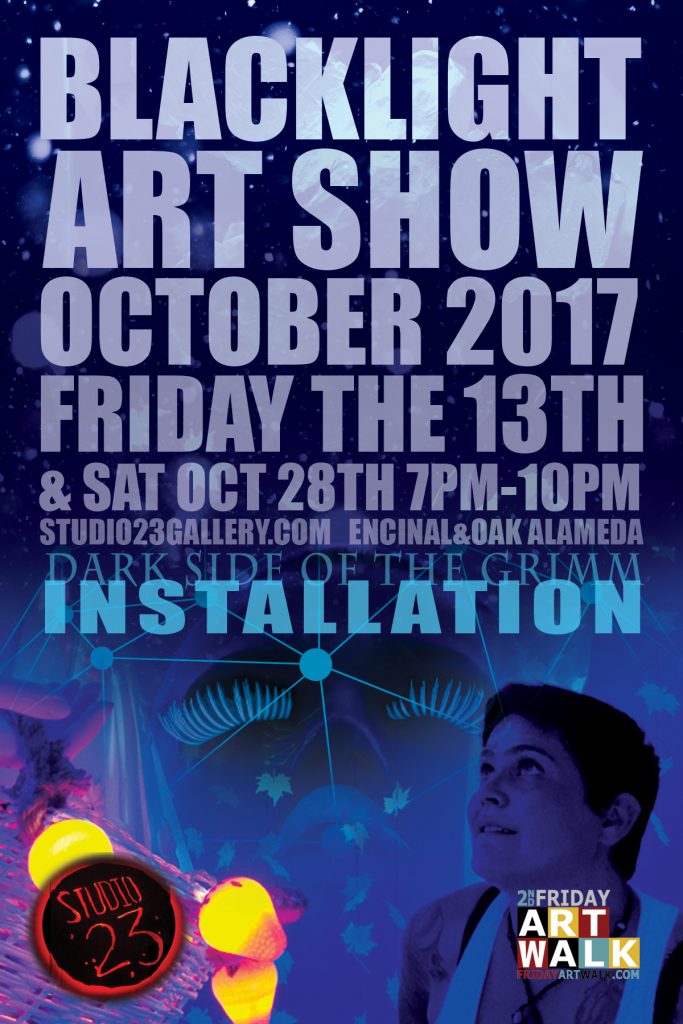 Booth Prices
1/2 10x5ft Booth Space & Tent=$25 (per show)
Artist's need to provide their own tables.
Booth spaces must be shared this year and are approximately 5×10 space.
The booths will be set up in a single row – there are only three booths (six spots).
Spots are filling up quickly.  Only 6 spots available this year, per show.
Show dates:
Oct Friday The 13th (Only 4 spots left) RSVP
Oct Sat The 28th (5 spots left) RSVP
In order to keep a particular creative vibe at this night market and to prevent duplicate booth entries, we are screening booths.  (In other words, we won't have two booths doing the same thing.)  Booths do NOT have to have black light art or uv reactive, but they must be pertaining to the creative arts.
We will light the area and provide a single CFL or LED white light for your booth.
Please email us the following information to see if your booth qualifies.
We will notify you to let you know if your booth qualifies and send information about how and where to officially register your space if applicable.
1. Artist and/or Company Name
2. A photo of your booth stand (72dpi, no larger then 8×10)
3. Website and/or social media page
4. Contact information / Phone & Email
Look forward to your submissions!
Email: art at alameda artists dot com
Subject: BlackLight Night Market
If you have been accepted you can pay with the link below. If you have not been accepted there will be a $5 processing fee to refund your money. Please do not pay unless you received explicit instructions to do so.
---